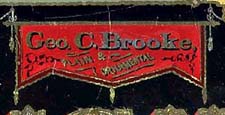 George Brooke was the co-author of The American Signwriter, 1877
This is a collection of hand painted glass pieces—part of an album of his work. Each plate in the Brooke album is 7″ x 4 3/4″ with the inside front cover signed George C. Brooke and dated Kansas City November 10, 1870.
Rick Glawson obtained this wonderful album filled with 11 actual glass plates. The images below were scanned from the actual plates.