J.N. Halsted Page
Pages by Mike Jackson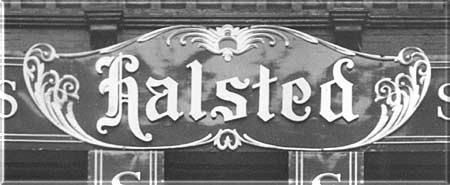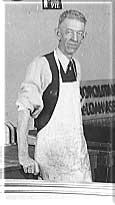 Signs of the Times Publishing, of Cincinatti, OH published J.N. Halsted's Modern Ornament and Design in early 1927. The photos on this page were forwarded to the American Sign Museum by Halsted's son and were supplied to this site for all of us to enjoy. Halsted worked out of Omaha, Nebraska from the early '20s to late '40s, operating a regular sign shop and card shop.
Halsted' shop from 1928 thru 1936 at 1408 Franam. It was two stories and half a block long. During the exhibit years, he employeed up to 14 men and an office girl. The Depression years starting in 1931 or 1932 hit the shop hard, cutting the crew down to two men and the same office girl by 1936.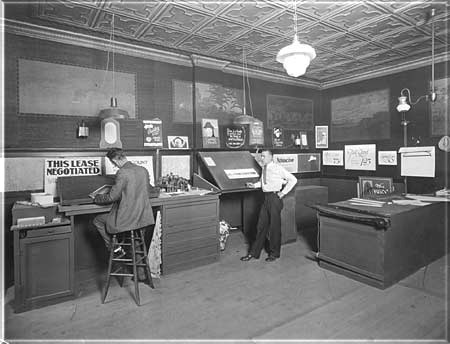 Halsted at the bench with a customer waiting at the Farnam Street shop. This was the "Show Card Room". On the back wall, the cards says "Full Card $1.25, Half Card 75¢, Quarter Card 50¢"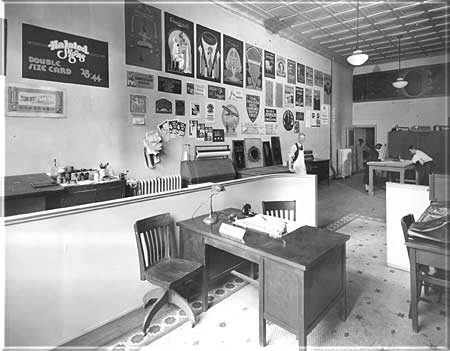 Halsted's last shop on Davenport Street. That's Halsted standing, with the office girl and son working with a Cut-Awl. The regular sign shop is through the door at the back of the show card room.
The four images above were actually derived from the row of cards at the top of the previous photo! Thanks to a very sharp photograph, and a few Photoshop tools, the small photos could be straightened and cropped. "Dewell", a commercial photographer in Omaha is credited with taking the three photos in the late '20s to early '40s.
Obituary, Signs of the Times, January, 1949:
Jesse N. Halsted
Jesse N. Halsted, well known signman of Omaha, Nebr., where he was in business for many years, died at Desert Springs, Calif., December 10, after an illness of several years.
At the age of 16 yound Halsted started his career in the sign field. He earned his first money lettering two windows in aluminum bronze. The windows were eight miles away, in another village, but he made on a bicycle on hot day in July and returned with $2.50 in his pocket.
A year later, he entered the Lincoln (Nebr.) Sign Works, where under the guidance of George W. Losey, he learned the trade. Losey later became president of Associated Sign Contractor and Halsted became secretary, elected in August, 1926, serving in that capacity for several years.
In 1915, Halsted opened his own studio in Omaha under the name of Halsted Signs. One of his hobbies was teh building of sub-marines, airplanes, etc., in miniature for advertising purposes. Later, he also operated in connection with his sign business a stree cabinet advertising system in Omaha. Severl years ago, on account of ill health, Halsted sold his Omaha business and went to Desert Hot Springs, Calif.k where he opened an art studio.
In 1927, Halsted prepared a book for the sign industry, called "Modern Ornament & Design." He was also a frequent contributor to ST.
Burial was had in the Inglewood mausoleum, Los Angeles. Surviving are Mrs. Halsted and their son, Hal Fl Halsted, of Seattle, Wash.
Jesse Halsted was one of the best liked men in the sign field. He scored a financial success for himself in his business in Omaha but nevertheless found time to serve the sign industry and its members. He shed a glowing light on progress and improvement in teh industry and the sign industry profited greatly through his efforts.