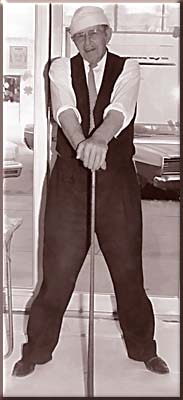 Steven Parrish
1909-1987
"The Gold Man of the Great Plains"
Steven Parrish quietly went about his life's work—applying gold leaf to the doors and windows of countless banks, shops and offices scattered throughout Kansas, Nebraska, Oklahoma and the Dakotas. Fortunately, he managed to "swing on over" to a Boise, Idaho Letterheads meeting in the summer of 1982 where he caught the Letterheads spirit!
That "swing" amounted to a six or seven hundred mile drive from his home in Aurora, Nebraska. After the "Boise Bar-B-Q", Steven became very involved in Letterheads and could be found at almost every large meeting for the next five years. With a lifetime of experiences as a man of the world and a careful craftsman, he was always the center of attention at any meeting.
Steven did most of his work for banks because "…that's where the money is". Steven's old Lincoln had well over 300,000 miles on it. He traveled the Great Plains supplying a product not usually available in rural communities. Numerous sign kits, tables, lights, and tools of the trade were carefully stowed away the rear of the car. Part of the show!
In about 1984, Steven was featured on the Sunday morning TV show with Charles Kuralt. The patient photo crew and producers watched and filmed for several days in Forgan, OK as Steven "robbed the bank". Forgan is in the middle of nowhere in the Oklahoma panhandle.
While he preferred working for banks, Steven also serviced the small shops in his home town.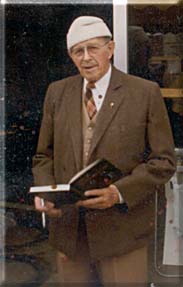 Steven was seen on Sunday morning at the Oklahoma Bash (Oct 30, 1982) in his "Sunday-Go-To-Meetin'" suit. His wife, Marie, hand made all of his clothes. His traditional outfit was a bottle green pair of trousers and jacket, along with a starched white shirt.
Steven developed his verison of vertical screen printing, which he kept a trade secret until he caught the Letterhead Spirit. Afterwards, he was quite willing to share his entire knowledge base with anyone attending a meeting. He lived a colorful life, charming every bank teller on the plains, but loyal to his loving wife.
Mr. Parrish was so well respected by his clients, he was known to have been given the key to the banks so he could work late into the night.
This group of photos illustrate Steven's distinctive style and flexibility. He was a big fan of Alf Becker's alphabets—often seen in Signs of the Times Magazines. Many of these were hand lettered in reverse on the glass door or window.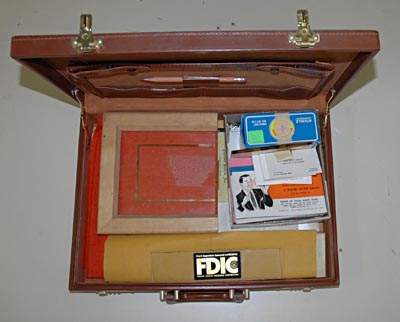 Steven Parrish's Sample Plates:
Steven visited his clients armed with a brief case or two and a few sample pouches—filled with actual gold leaf mini-projects.
His neatly arranged leather brief case contained business cards, note pads, a sample or two, and the normal odds and ends.
Marie, a professional seamstress, made several ingenious carrying cases for Steven's samples. Once unsnapped, the cases flattened out easily to view six glass plates. Each plate was 6.5″ x 10″, done on 1/2″ plate. The examples below are just a few he might have carried in with him on a sales call.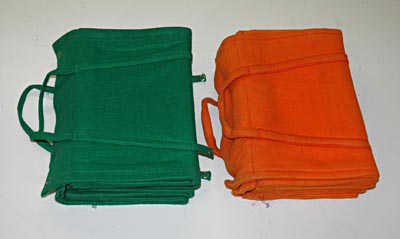 Steven's Sign Kits: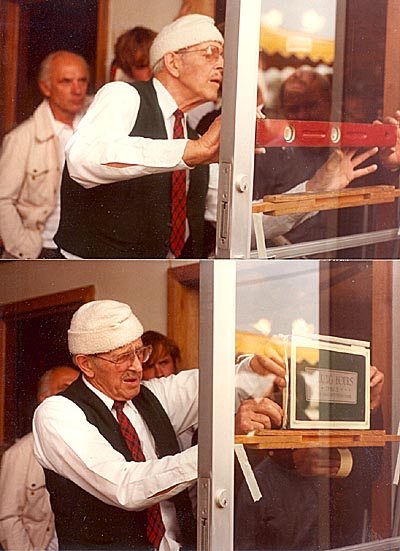 A personal note from Mike Jackson
I grew up in Moore, Oklahoma where this bank was located and even banked there as I grew to the age of needing a bank. As I became interested in signs, I could be seen on numerous occasions closely inspecting the signs on the front doors. They were almost perfect! As my skills increased, so did my respect for the work. I kept admiring the bank lettering. It was so far above my skill level, but it kept drawing me back to look at it. I asked the people at the bank who did the signs, but the best I could ever get was "Some old guy from Kansas or Nebraska did them". One afternoon, after I had been featured in Sign Craft magazine, I received a call from an elderly gentleman. He asked me if I had ever seen the signs on the bank at Main and Broadway. Of course, I said "Yes, I had been looking at them for a long time." That's when he told me he was the one who had made them. He invited me up for a weekend and he drove me around half of Nebraska to see his work—telling me endless stories along the way. That began a long and lasting friendship. A few months after his death in 1987, I received a call from his son who was in charge of clearing up his estate, asking if I was interested in buying his kits, supplies, and samples. Apparently his wife, Marie, had mentioned that Steven wanted me to have them. We were basically broke at the time, trying to get our new shop up and running, but we managed to come up with the money and have been the proud caretakers of most of his equipment and samples. We managed to get a few of his old photos you see here. Someday, we plan on donating a nice grouping of the collection to the National Sign Museum being developed in Cincinatti, Ohio.
As I sit here writing this, I hope Steven is pleased. I have to laugh a little, too. When we were gathering up what we could fit in my old GMC Gimmy, we found a couple of boxes of gold leaf. I opened a few of them up to see full packs of gold leaf. One small box must have had 10 packs in it! In fact, there was a foot locker full of similar boxes. As it turns out, Steven had carefully opened each pack, slipping the paper sleeve off of it, opened each book of gold and used it. Then, he carefully repackaged each book into its cellophane cover and then combined the 20 books together again in the original paper sleeve, and stored them back in the pack box. Once we figured out that all the packs were 100% empty, I called Marie and asked her about it. She told me Steven kept all his boxes and packaging for all his life…just to see how many leaves of gold he had used in his lifetime!